Overview
The calcaneus is the largest bone in the foot. Pain in the heel region can sometimes be related to Plantar Fasciitis, inflammation of the plantar fascia ligament in the heel area. A heel spur is a hook of bone that forms on the calcaneus where the plantar fascia attaches. Heel spurs can be identified with an X-ray. A heel spur can occur with or without Plantar Fasciitis.
Causes
Bone spurs can occur all over the body including the spine, shoulders, hands, hips and feet. The feet are a common place to find them. A heel spur happens when the body tries to mend itself. Building extra bone is one way your body tries to correct a weakness. Wearing shoes that are too tight in the heel can cause bone spurs. More women than men get heel spurs because of the kinds of shoes they wear. Athletes who stress their feet and legs routinely are also prone to heel spurs. Being overweight can also indirectly cause heel spurs by over-exerting the plantar fascia. Some heel spurs are caused by the aging process, in which the cartilage covering the ends of bones wears away. This process can lead to pain, swelling and spur formation. Stress-related problems with the plantar fascia frequently lead to heel spurs.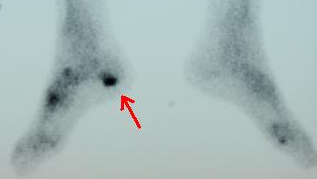 Symptoms
Heel spurs are most noticeable in the morning when stepping out of bed. It can be described as sharp isolated pain directly below the heel. If left untreated heel spurs can grow and become problematic long-term.
Diagnosis
Diagnosis is made using a few different technologies. X-rays are often used first to ensure there is no fracture or tumor in the region. Then ultrasound is used to check the fascia itself to make sure there is no tear and check the level of scar tissue and damage. Neurosensory testing, a non-painful nerve test, can be used to make sure there is not a local nerve problem if the pain is thought to be nerve related. It is important to remember that one can have a very large heel spur and no plantar fasciitis issues or pain at all, or one can have a great deal of pain and virtually no spur at all.
Non Surgical Treatment
Many treatment options exist, and good results are often observed. Generally, a calcaneal spur develops when proper care is not given to the foot and heels. It is often seen as a repetitive stress injury, and thus lifestyle modification is typically the basic course of management strategies. To alleviate heel spur pain, a person should begin doing foot and calf workouts. Strong muscles in the calves and lower legs will help take the stress off the bone and thus help cure or prevent heel spurs. Icing the area is an effective way to get immediate pain relief.
Surgical Treatment
Surgery is used a very small percentage of the time. It is usually considered after trying non-surgical treatments for at least a year. Plantar fascia release surgery is use to relax the plantar fascia. This surgery is commonly paired with tarsal tunnel release surgery. Surgery is successful for the majority of people.